Cheryl Lee MD Sensitive Skin Care
TrueTherapy Ceramide + Cream
Deep Moisturizing Dry Skin Therapy
TrueLipids TrueTherapy Ceramide+ Cream is a cutting-edge, deeply moisturizing dry skin cream. Lipid Release Technology gives long-lasting, controlled lipid release to the skin where it needs it most. This cream is beneficial for people of all ages and varying skin types, and it helps to treat very dry skin or Eczema-prone skin.
Cutting-edge cream contains the lipid ceramide to restore and replenish the skin.
Features Lipid Release Technology that soothes the skin's most vulnerable areas.
Non-toxic medical grade formula is beneficial for people of all ages and skin types.
Deeply moisturizes and rejuvenates very dry skin and is proven to help treat eczema.
Free of 88 top allergens, hypoallergenic cream won't cause an allergic reaction.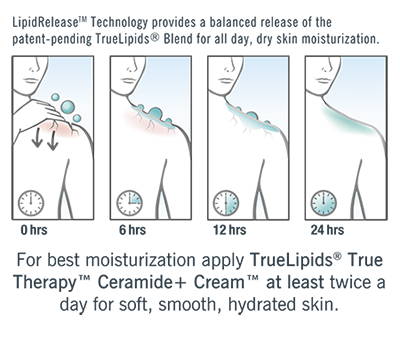 Apply two or more times daily as needed to maintain a moisturized and healthy skin barrier. This product is especially effective when applied right after a shower or bath.
Recommend for blemished, unbalanced, aging skin
Great for kids and babies too!
For best moisturization apply TrueLipids True Therapy Ceramide+ Cream at least twice a day for soft, smooth, hydrated skin.
Water, Caprylic/Capric Triglyceride (Coconut), Petrolatum, Neopentyl Glycol Diheptanoate, Polyglyceryl -10 Pentastearate, Behenyl Alcohol, Sodium Stearoyl Lactylate, Glyceryl Stearate, Glycerin, Isostearyl Isostearate, Cetyl Alcohol, 1,3 Propanediol (from Corn), C10-30 Cholesterol/Lanosterol Esters, Ceramide 3, Phytosphingosine, Euphorbia Cerifera (Candelilla) Wax, Niacinamide, Glycyrrhetinic Acid (Licorice Root), 1,2 -Hexanediol, Caprylyl Glycol, Disodium EDTA, Xanthan Gum, Gluconolactone
The Free Campaign
TrueLipids® products are free of the following allergens and toxins:
• Fragrance/Masking Fragrances • Parabens
• Bees Wax
• Potassium Sorbate
• Dyes
• PEGs
• 1,4 Dioxane • Acrylates
• Methylchloroisothiazolinone/MCI/MI • Behentrimonium Chloride
• Silicone & Dimethicones
• Tocopherols
allergic reactions in patch testing done on 702 people.
• Benzalkonium Chloride
• Triclosan
• Gluten, Peanut & Soy
• BPA & Phthalates (per our packaging suppliers)
• Aluminum & Nickel (none has been added/included in our formulation or packaging) • 1,2 propanediol (propylene glycol) from petrol*
• Formaldehyde/Formaldehyde-Releasers • Sulfates
• Triethanolamine/TEA
• Carbamates
• Distearyldimonium Chloride • BHT & TBHQ
• Phenoxyethanol
• Lanolin alcohol**
*Contains 1,3 propanediol (also called propylene glycol) from Corn
**Contains an ultrapurified cholesterol ester extract from Lanolin (which may have very trace amounts of lanolin alcohol) that has shown NO definitive


Net wt 3.4 fl oz (100mL)
99% Vegan, No Animal Testing